Over 25 million visitors a year. $8.4 billion worth of economic impact. Welcome to San Francisco, CA
18+ Total Weekly Impressions
Why OOH Advertising in San Francisco, CA?
San Francisco, California is a little over six hours away from the bustling city of Los Angeles. With a population of over 840,000, San Francisco has a lot to offer in terms of tourists and locals. This city features vibrant nightlife frequented by affluent workers in the area.
This area also features a fantastic array of dining opportunities from Michelin-starred restaurants to small, local food carts. The South of Market (SoMa) of San Francisco features multiple museums and clubs that people frequent. You simply can't beat that kind of exposure – this area features average weekly impressions of 163,296, with 18+ total weekly impressions!
By choosing to advertise in San Francisco, you will be advertising to people throughout America. This area has prime space for advertisement and many eyes to view it. Can you beat that?

san francisco Media Kit
Foxpoint's location-based media provides unmatched environmental relevance to consumers.
This ensures that brand stories communicate the right message, at the right time, to the right audience. Want to learn more about billboard opportunities in the San Francisco Market? Download our media kit below.

San Francisco Bulletin
Media Type:
Static

|

Facing:

SouthWest

|

ID:

SF-01
18+ Total Weekly Impressions
Located on Folsom Street & 7th Street, this prime wallscape is located in the highly desirable SoMa neighborhood, facing four lanes of one-way traffic at a controlled stoplight. This area is thriving, with some of the best nightlife and dining destinations in the city frequented by the young, affluent demographic that live and work in the area. The Embarcadero Center and AT&T Park are less than two miles down the street.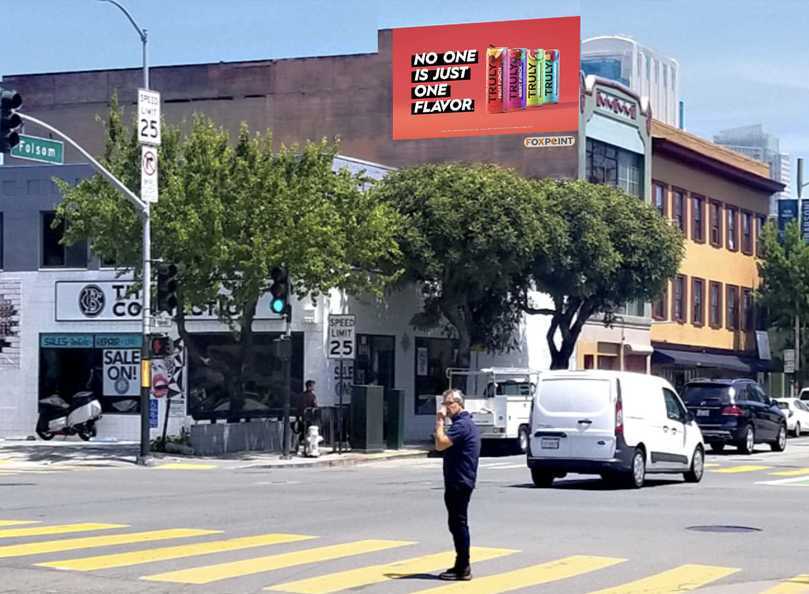 Let's plan
your
Campaign!